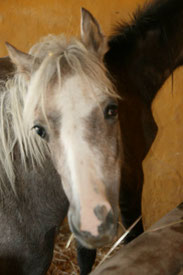 Some horses, or in this case a certain little pony called Hope, have an amazing ability to bounce back from horrendous experiences.
Hope was rescued 4 years ago by ARCH Rescue Centre in Malaga,  along with Valiente.
They had been locked in a small stable for some considerable time. Hope had a bad abscess in her foot. She was blind in one eye and partially sighted in the other. She was very anxious and scared of people.
After 2 years at ARCH Rescue Centre, where they received all the veterinary care needed for their rehabilitation, we offered them a foster home.   Our job was to further their rehabilitation through training them to be happy with hoof-trimming, leading etc and to give them a secure and happy life.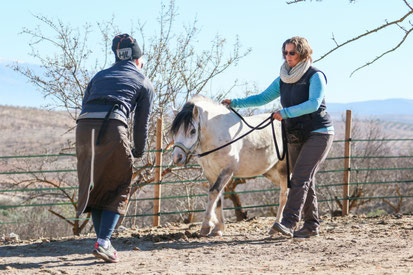 Hope was nervous and unsure when she arrived. We worked  on her confidence and how to communicate with her using sound instead of relying on visual cues. 
She loved the agility training we did with her and also began to learn how to long rein with Angelica Hesselius. Here Angelica is using clapping to tell her where the target is, while Claire teaches her a vocal "walk-on" cue.
She was a complete star during our Hoof Trimming for Horse Owners courses, allowing new people to come and handle and trim her feet.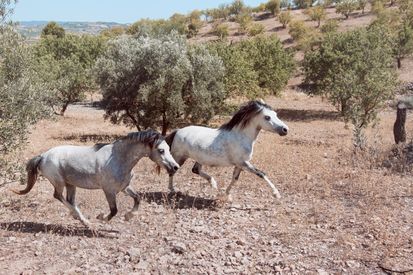 Over time, Hope's confidence grew so much that she was able to go out with the rest of the herd into the 15 acre "Wilderness Paddock" .
I love this photo with her and Valiente moving happily and confidently amongst the trees
However, last November, when Rachael Draaisma was working with her,  we noticed that her sight had deteriorated even more. Over Winter we monitored her to see how she was coping. We began to notice that she was being chased a lot by other mares in the herd.
Valiente, on the other hand, was having the time of his life, playing with the rest of the geldings, so he was spending less time with her. This meant that she seemed to be spending more and more time by herself.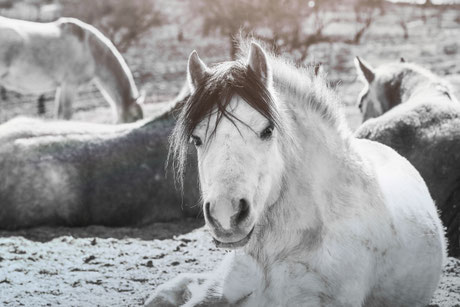 In early March, Hope came in with a nasty injury on her face, just below her eye. We think she must have run into a tree branch while she was being chased. She was getting increasingly anxious again and was even becoming nervous while we were handling her, jumping at every tiny rustle or noise.
After a long discussion about the different options that we have, we realised that we could no longer give her the best home. Fortunately, ARCH can, and so she has gone back there to live for now.  
We are very sad that we won't see Hope's cute little face every day, but know she will have the best care at ARCH. She will always have a very special place in our hearts and in all our students and instructors who have worked with her.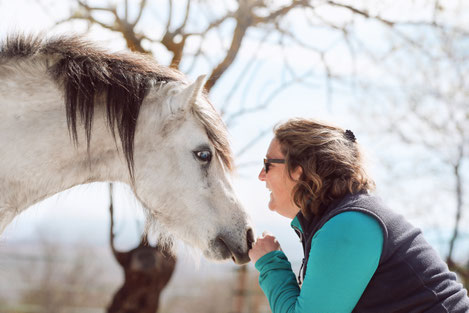 Look out for the next Blog all about Hope's journey back to ARCH which included a dramatic horse rescue too with the ARCH Rescue centre Team!